Did you know that you could take daily devotions, the Bible and Luther's Small Catechism with you everyday?
Here are some apps to support you in your daily faith journey: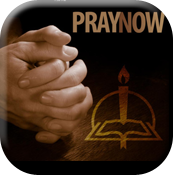 Includes a daily Psalmody, Old and New Testament Readings, devotional, Hymnody, Prayer of the Day as well as a suggested Reading from the Book of Concord. Also included are selected Canticles, Prayers and Thanksgiving, Short Orders of Service as well as Orders of Daily Prayer.
Reference the official 1986 version of Luther's Small Catechism wherever you are. This offers multiple translations. On top of exploring the Six Chief Parts of Christian Doctrine, it also includes daily prayers, a table of duties for Christians and a guide for Christians to use as they prepare to receive Holy Communion.
Download the official Daily Devotions from Lutheran Hour Ministries.The devotions are written by staff and volunteers of Lutheran Hour Ministries across the globe. They are updated daily, and are available as text and audio.
The Bible App for Kids is part of the YouVersion family of apps. It includes Bible Stories with easy, kid-friendly navigation, colorful illustrations, touch-activated animations, fun facts and activities, and special challenges that let kids earn rewards.